BartendersBinder
Better Bar Management
FEATURES
Item/Ingredient Management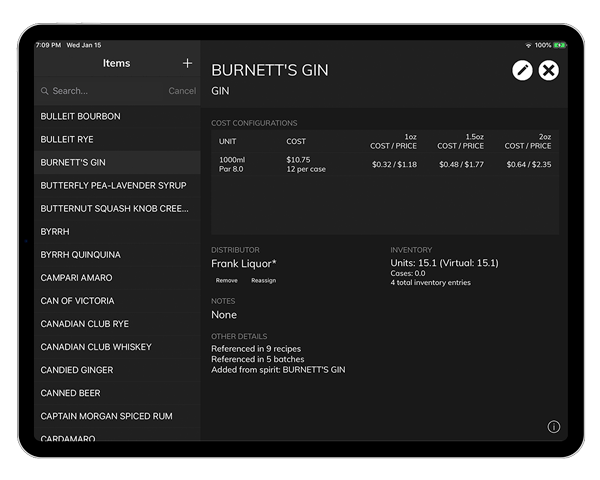 Create a list of all your spirits, modifiers, garnishes, and, other miscellaneous items to be used throughout the app in formulas, batching, inventory and, ordering. Item management allows for multiple bottle size configurations with individual price and par level settings. Vendors/distributor can also be assigned to simplify ordering.
Modifiers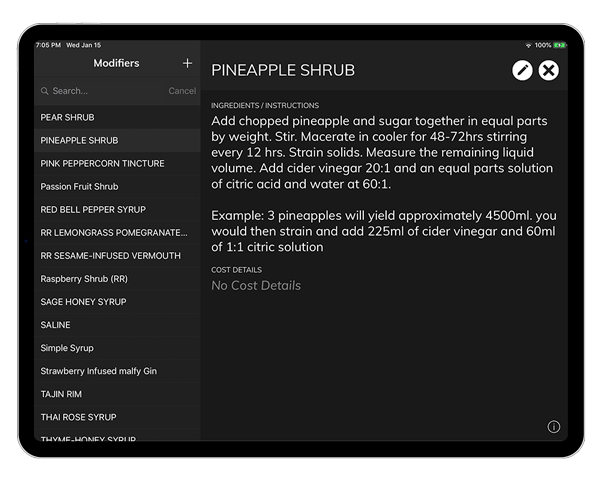 BB has a simplified modifier area to store formulas for in-house cocktail components like syrups, tonics, and shrubs. These items are automatically added to your items list for use throughout the app.
Formula/Recipe Management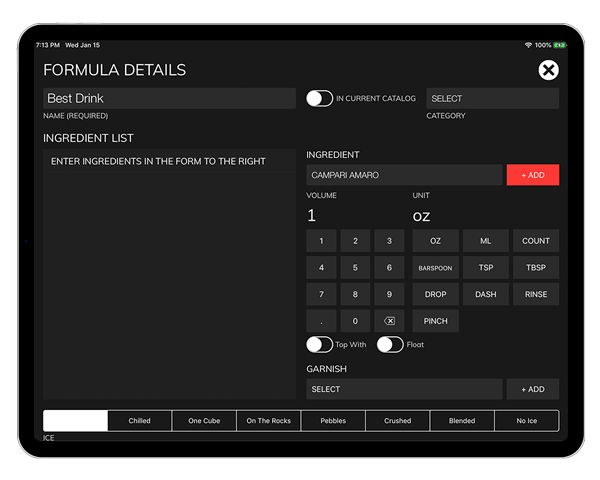 Build recipes in our intuitive interface and keep a searchable database of all your past and present cocktail formulas.
Menu Management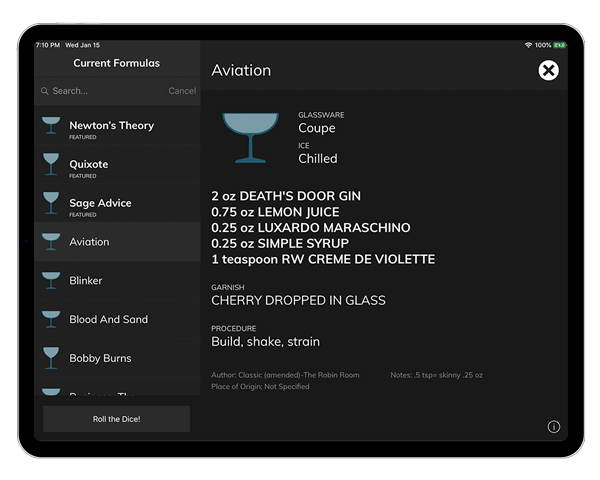 Formulas can be included in your Current Menu for daily use by you and your bartenders. As your menu changes, simply add or remove items and everyone will have the seasons specials at their fingertips. A "Featured" option allows for easy access of the formulas that are needed most often.
Batching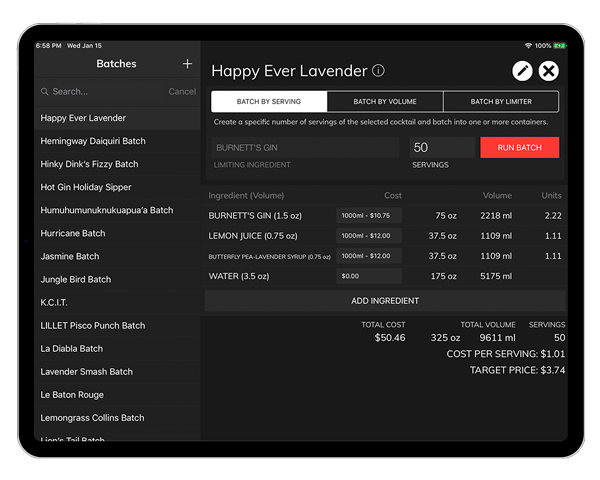 The BB batching feature will do all the required calculations to generate cocktail batches. You can batch by serving count, total volume, or by limiting ingredient. Volume is presented in ounces and milliliters, and base cost per serving and target price are also calculated for each batch.
Inventory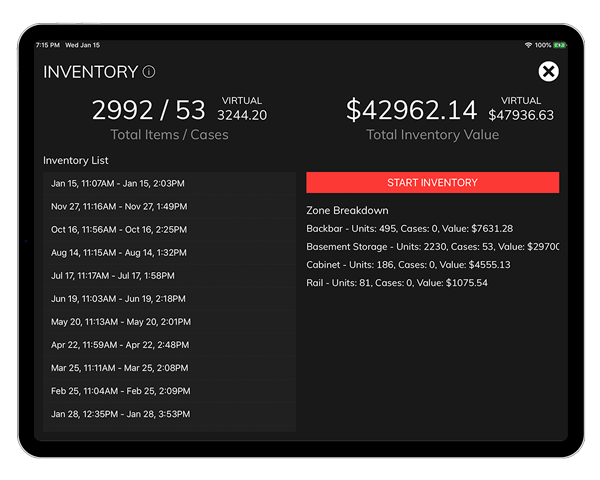 Simplify, improve, and speed up inventory with BB. At a glance, see a breakdown of your total inventory and summaries by zone.
Bottle Out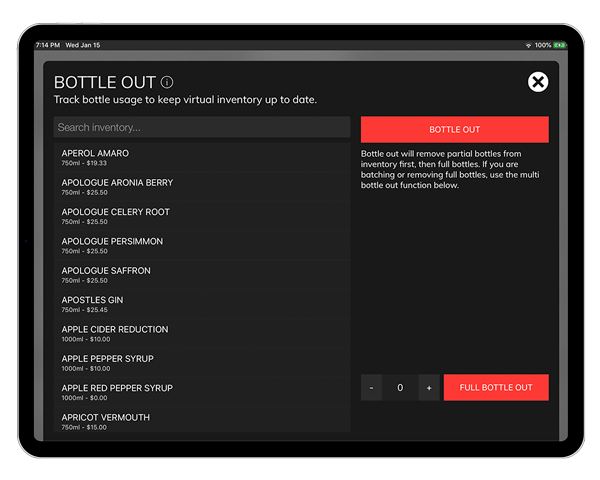 A bottle out function is provided for those who wish to keep closer track of their virtual inventory between full physical inventories. Using this feature allows BB to show you an approximate real-time virtual inventory of all your spirits. It also improves the suggestions list when building orders.
Ordering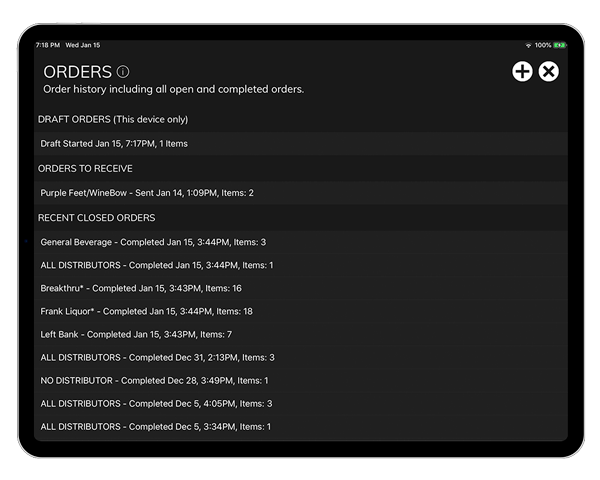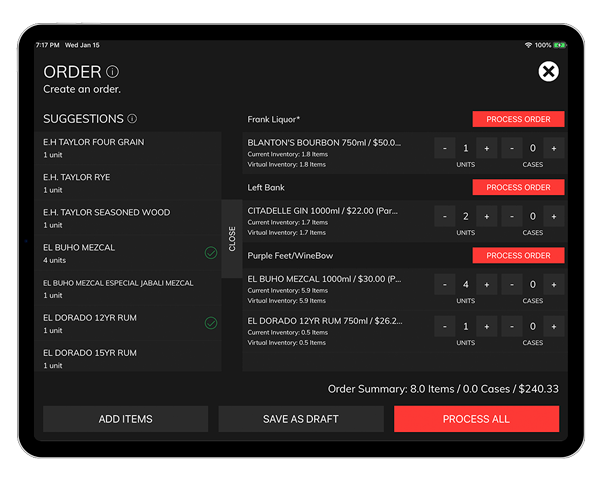 Build orders quickly with the ability to send them directly to your distributors. When an order is received, all items can be checked in to ensure the correct spirits were delivered and the proper amount was charged. Suggestions are also available based on your inventory and par levels per item.
Shift Notes
Shift notes can be entered quickly and are always visible on the main screen to communicate important details to employees about stock issues, specials, and other important notices.
Notifications
Setup notifications so you and your team members can be notified when important actions take place within the app.
BENEFITS
Virtual Inventory
Virtual inventory is a real-time, calculated inventory based on orders received and bottle out information since your last full inventory. This feature helps business owners keep closer track of their overall inventory day to day and allows BB to build a suggestion list during order creation.
Costing
Plug in your cost for each item and BB can provide cost and price details throughout the app. Formulas and batching will display a base cost and a target sales price based on your target cost of goods (COG).
Backup
All your data is synced between your devices and securely stored on BB servers. Don't worry about losing the formulas you have worked hard to create.
SUBSCRIPTION DETAILS
30 Day Free Trial
All features and functionality!
Limited time introductory pricing
CONTACT US
If you have questions about our service, please send us a message. One of our customer service specialists will response promptly.
If you are a vendor or spirit producer, please visit our vendor section to inquire about your spirits being included in BartendersBinder.